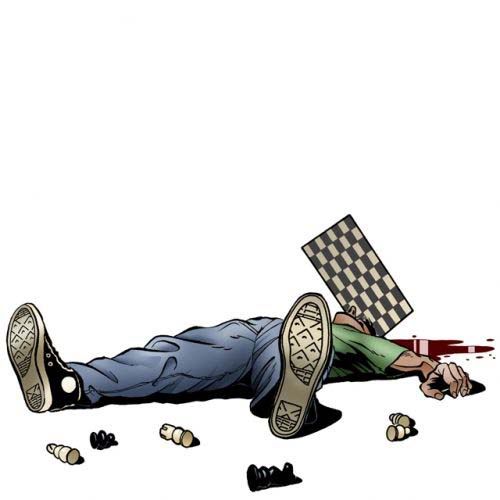 In some occasions we witnessed (if not been part) misunderstandings
Compose
between chess players, or even sometimes found ourselves dreaming of redecorating our opponent's face with checkered, it is not easy to deal defeat's negative feeling nor wear a smile after our ego got badly bruised, but a determined chess player should also see that surviving the annihilating moments is what makes the champions.
Chess is not just an sport or a game, it is also an art, a complex art that requires a partner to accomplished a masterpiece, and a respect to the second party is a must.
"Chess indeed mimics life, you can't just go on fulfilled playing the light squares, you should also deal with the bitterness dark squares" - Chesscraftman
The oldest recorded chess related violence could be found in Arabic Manuscript. This involves Al Walid an Umayyad caliph (arabic dynasty ruler), the incident happens when the caliph found out that his courtier, who he is regularly playing shatanj or chess with, is intentionally losing the game to him. The caliph got very upset and offended that he hurled the firzan (equivalent to queen) to the courtiers head resulting to its death, good thing nowadays chess pieces are made out of plastic or wood instead of rocks. That courtier is at the wrong place and time, I know people who enjoys such courtesy and will even pay.
An 8 inch Firzan rock
The son of Pepin the Short (Charlmagne 714-768 AD) who have no historical significance, found a way to history context, by hitting
Okarius (Okar), the prince of Bavaria at the head with a rochus (rook), resulting to its death, and I am beginning to understand now, why modern chess pieces is made up of light materials such as plastics.
William the Conqueror, was the first norman king of england and the Duke on Normandy, hit the Prince of France with chessboard after he got checkmated.
Of all chess-related violence, the next one should have the biggest impact in history, when
around 1120, King Henry I of England and King Louis VI of France got into a fistfight over a game of chess in Paris, this event was supposedly the start of England and France 12-year war.
England vs France chess set
The first known chess-related violence leaped to court happened in Essex, in 1251, when a what should be battle of wits chess match ended into stabbing, after losing a game it angered him too much that he grabbed a knife and stabbed his opponent in the stomach, resulting to its death.
A man was injured while operating an Ajeeb (a chess automation), happens when a man got upset when beaten, he loaded his rifle and fired a shot at the machine. One the famous player of the Ajeeb is Pillsbury.
During the Candidates Tournament in Curacao (1962),
Arthur Bisguier was assigned to second to Pal Benko and Fischer. On May 9, Benko came looking for Bisguier in Fischer's room to get some help in analyzing his adjourned game with Petrosian. Fischer told Benko to leave and they both got in a fist fight. The next day Fischer wrote a letter to the organizing committee to fine and/or expel Benko from the tournament. The letter was ignored.
I know a pgn game is not as good as the fist fight video, but unfortunately nobody brought their smartphones with them.
Who wouldn't want a wife very supportive of our chess career (or agony), but nothing more on what Tigran Petrosian's wife did during 1971 Candidates Final in Buenos Aires, after his husband lost to Fischer, Rona Petrosian slapped Alexei Suetin for failing to give an accurate analysis for the the adjourned match.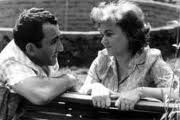 But if you insists that she is your dream girl, and want her to be your queen, here is a little help.
Chess is to blame for what could probably the first space fist fight, when in 1980's the Soviet Union banned cosmonauts to play chess against each other, after it resulting to a fist fight between two cosmonauts.
In 1989, A Russian scientist was killed with an axe by his colleague after winning a chess game at the Vostok
Research Station in the Antarctic.
In 1994, Martin Wirth of Fort Collins, Colorado, shot to death Vernie Cox after the two argued over a chess game. Cox died of two gunshot wounds to the chest. Witnesses said that Wirth had lost a chess game with Cox, knocked over the chess board and some furniture, then began to argue with his opponent. Wirth went across the street to his home and returned with a gun and shot Cox to death.
During the early 1990s, Rustam Kamsky, a former boxer and father of Gata Kamsky, would often go to chess tournaments with his son and threaten anyone who he perceived was disturbing the concentration of his son. In 1994, Rustam threatened to kill grandmaster Nigel Short at a restaurant during a Kamsky-Short chess match.
In 2000, Laurence Douglas of Puoghkeepsie, New York, stabbed Craig Williams to death over a chess game. Williams had just beaten Douglas in a chess game that had a $5 wager. Williams took a$5 bill from Douglas after the game. Douglas then pulled out a knife and stabbed Williams 16 times.
In 2003, Simon Andrews of Falls Township, Pennsylvania, stabbed to death Jerry Kowalski during a chess game. Authorities said that Andrews was disturbed by Kowalski's constant talking during their chess games. Andrews then pulled a knife from under a sofa-bed mattress and stabbed Kowalski in the neck. Andrews was sentenced from 15 to 30 years in state prison.
In 2005, junior champion David Howell of England (now a grandmaster) punched the organizer of the European Union Chess Championship when it turned out that Howell would not win a prize. It turned out that titled players were not eligible for junior prizes.
The prize fighter/boxer
In 2006, during the Turin chess Olympiad, UK grandmaster Daniel Gormally punched Armenian grandmaster Levon Aronian to the ground at a nightclub. The two got in a jealous dispute over 19-year-old chess playing beauty Arianne Caoili. Caoili's energetic dancing with Aronian provoked Gormally to fight.
In October 2008, David Christian of Iowa City got in a fight with Michael Steward while playing a game of chess at the rooming house where they both lived. He was sentenced to up to 10 years in prison for involuntary manslaughter. Christian choked Steward to death.
In February 2009, a man killed a friend with a sword after a chess game in Alameda, California. An argument broke out during their game, and the two started wrestling. Joseph Groom retreated to his bedroom and returned with a sword, which he used to stab Kelly Kjersem once. Kjersem later died.
Sources:
http://www.chesshistory.com/winter/extra/violence.html
http://www.chessville.com/BillWall/ChessViolenceandCrime.htm
http://www.geocities.com/SiliconValley/Lab/7378/fischer.htm